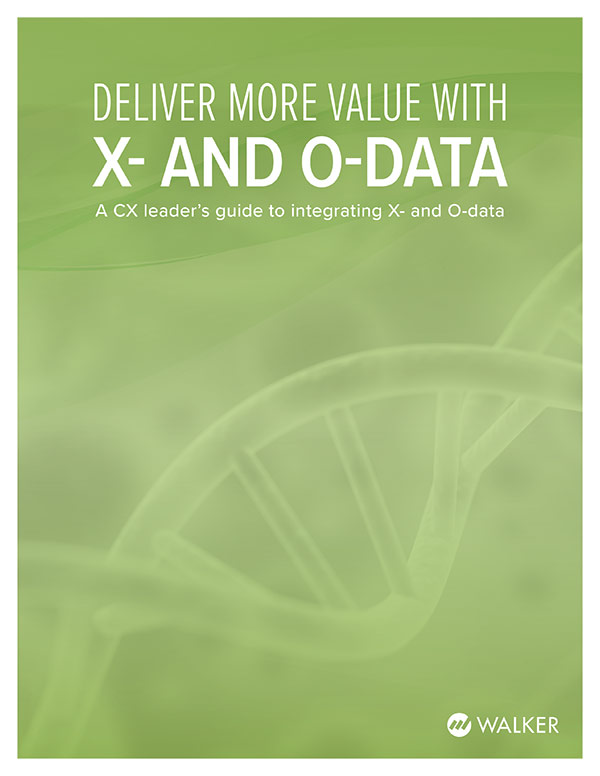 In today's business world, X- and O-data represents the DNA of companies, but integrating them can be a challenge. This report tackles the issue by providing a practical framework to drive better decisions.
Complete the form on this page to download this free report.
The integration of experience data (X-data) and operational data (O-data) can be a tough concept to grasp. Both types of data are valuable as independent sources of information, but together companies can gain a comprehensive, full-view to markedly improve the experience of their customer.
This report includes:
The Value: Why the integration of X- and O-data makes so much sense for companies today.
Making it Work: Six phases that provide a framework for putting X- and O-data to use.
Common Obstacles: The pitfalls companies should anticipate and how they can be avoided.
With deliberate upfront planning, insightful X- and O-data integration paints the full picture, setting the stage for more effective data-driven decision-making and robust improvements.
This report can help enhance the experiences of your customers to ultimately drive greater business success.
Listen to the contributing authors
Walker experts Troy Powell and Brad Harmon discuss "Delivering More Value with X- and O-Data" on The CX Leader Podcast.
The ROI of Customer Experience
Released: March 2, 2021
You can download this report for free by completing the form on this page.